e-Reg Features
e-Reg is a "regulation centric", RegTech software as a service (SaaS). Financial regulation has been normalized and all e-Reg functionalities are based on this standardized regulation view. This enables simplicity and intuitiveness when working with regulation. A few minutes of hands-on demonstration allows you to quickly understand our "regulation-centric" approach.
Here are the main features:
Search
Find information quickly in regulatory documents, thanks to the tool's capabilities.
Search by keyword, filter, or reference in the regulation.
Access regulations in several languages: whatever your search language, e-Reg offers different results in other languages if they do not exist in the language used. Switching from one language to another is managed intuitively.
The search is always performed in the entire available content in e-Reg: in the regulations and your user group's comments and working notes (private collaborative space).
Regulatory Context
e-Reg provides links to documents, additional reports, and the regulatory history for each search. This provides an overview of the regulations.
Easily navigate to all research-related documents.
Have an overview of the regulations.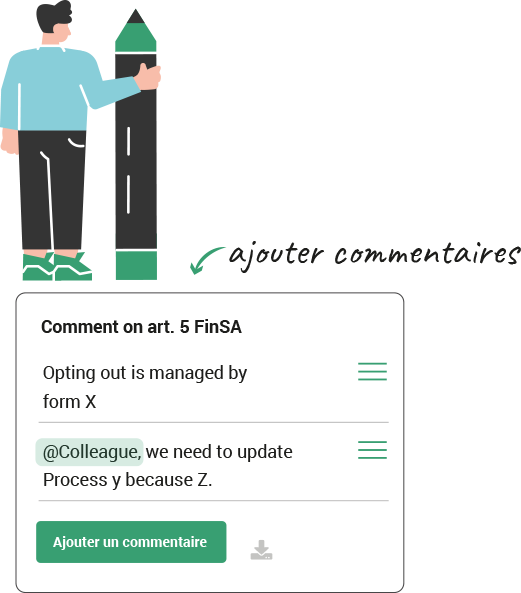 Collaboration
e-Reg allows you to add personal comments and remarks to the regulation, identify the colleagues affected by a regulation paragraph, assign responsibilities in project follow-up, share information, or receive reminders by email.
The decision history is displayed in the application: this avoids the situation where an analysis or a decision is only accessible in a colleague's mailbox who's on vacation! You know exactly where you stand at all times.
Comment on the regulation
Share comments
Work as a team on regulatory issues
Maintain and share information, access others' information
What are all the decisions we took when implementing FinSA?
What was the answer we received concerning art X when we asked about the special case Z?
Information Management
e-Reg allows users to comment on regulations in a private collaborative space.
Document key decisions
Add helpful information for colleagues, etc.
Keep track of crucial external information
Provide clear and accessible documentation on how the regulation is implemented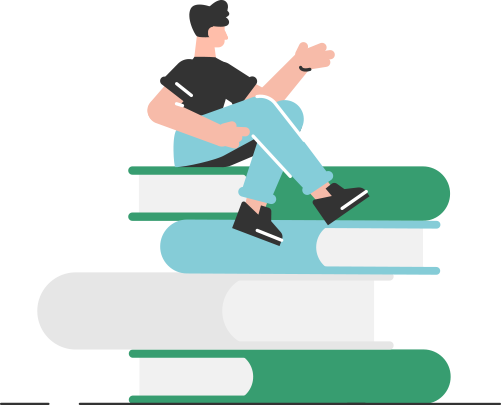 Library of Regulations
A library of applicable regulations is at your disposal: everything is centralized and integrated into the collaboration and information management system.
The regulations are available in all languages (French, German, Italian, and English).
Have the current regulations on hand, with all the pertinent links.
Regulatory Change Management
With e-Reg's change management process, tracking changes is controlled, seamless, and straightforward. It is also possible to subscribe to a regulatory change library (in addition to the change management process).
Access a continuously updated overview of current changes
Stay informed of regulatory changes
Keep track of changes with your dashboard and customizable reminders
Benefit from analyses on regulatory changes in Switzerland
Search in Internal Policies and Documents
e-Reg also offers an optional feature:  integrate each bank's own internal policies and procedures into the RegTech tool. This bank-specific data is stored in a secure and segregated environment..
By adopting this e-Reg module, users will :
have access to all the information they need for regulation management in one place, both internally and externally ;
improve their analysis and complete their working notes and comments directly in the tool ;
collaborate more comfortably on regulatory projects or consultations ;
Complete the regulation library with internal's bank document.
To go further in understanding our RegTech solution, don't hesitate to schedule a demonstration of the platform by making an appointment !